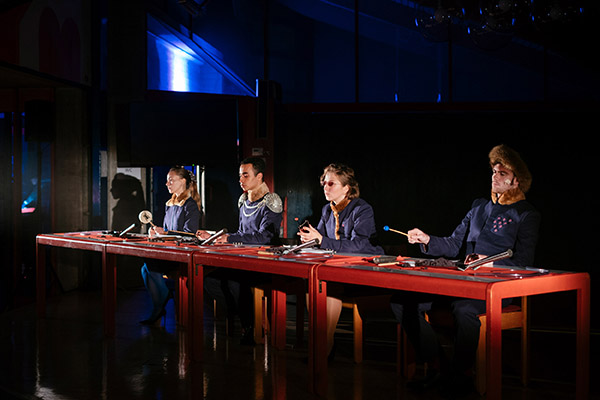 Description
Andrei Stadnikov's new play explores the relationship between food and political power. The starting point of this surreal staging that straddles the boundary between theater and contemporary art is a macabre episode in recent history when Russia introduced so-called countersanctions on produce from the EU. Using ready-made text fragments, Stadnikov's play allows the audience to witness a cabinet meeting during which the decision was made to destroy EU produce that had illegally entered the country, a resolution widely perceived as verging on sacrilegious in light of Russia's long history of famine. Stadnikov then imagines the same at the country's recently deceased leader's wake, where pathos-laden funeral speeches accompany ritualized gluttony and are interrupted by ghostly lists of banned produce confiscated and destroyed at the border. A musical score based on lamentation—an integral element of mourning in many cultures—accentuates the narrative along with an arrangement of a workers' funeral march, an excerpt from the famous Symphony of Factory Sirens (1922) by the Russian avant-garde composer Arseny Avraamov. Performed in the evocative location of a Brutalist old factory Stadnikov's play highlights the ritualistic, quasi-religious side of the politics of food, representing both the glory of the powerful and the desires of the hungry.
Cast and crew
Concept, text, director: Andrei Stadnikov
Concept, stage: Shifra Kazhdan
Concept, music: Dmitry Vlasik
Costumes: Vanya Bowden
Performance: Anton Kukushkin, Gladstone Makhib, Anastasia Pronina, Leonid Samorukov, and Anastasia Velikorodnaya
Production: Evgeniya Petrovskaya, Darya Verner
Light: Anton Astakhov
Script translation from Russian to English: Thomas Campbell
Stage concept assistants: Olga Tjurina, Tatjana Sonina
Performers: Aleksei Shakhbanov, Elise Pottmann, Svetlana Ivanova, Ksenija Frolova
About the theater
Co-production: Theater Company «Второе действие» (Russia), Contemporary art festival steirischerherbst (Austria).
Duration: ca. 80 min.
Performance is in English with Estonian and Russian surtitles.
Personal ID is compulsory on Kreenholm territory.
Ticketsale at Kreenholm is only in cash.