"Mom, is our cat also a Jew?"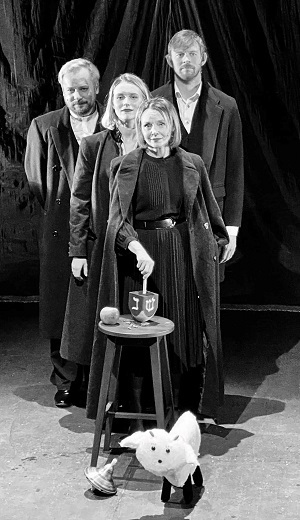 Team
Author and director Julia Aug
Set and costume designer Polina Grechko (Venemaa)
Lighting designer Priidu Adlas (Draamateater)
Video designer Laura Romanova (Vaba Lava)
Sound designer Ardo Ran Varres

On stage: Elina Reinold, Loviise Kapper, Ott Kartau ja Taavi Teplenkov
(Draamateater)



Duration: 1h 35minutes.

In Estonian with English and Russian subtitles.


This play tells the story of how a person becomes aware of his nationality.
About what and which traumas this nationality is connected with. How the
person becomes aware of himself in the world and the choices he has to
make. In this play, we ask ourselves what must happen to a person who starts
to make fun of, tease, bully another person only because the latter one is
a Jew. And then assumes the right to kill that person. Because he is a
Jew. Holocaust – one of the most dreadful pages in the history of the
modern Europe. And also one of the hardest topics for Estonia.Must we talk
about it? Would it be better not to touch this topic, since it still causes
so much pain? Or vice versa – we certainly should talk about it, because
otherwise we forget the names of those people who helped the Jews in
Estonia during World War II?