Oasis of impunity (Chile)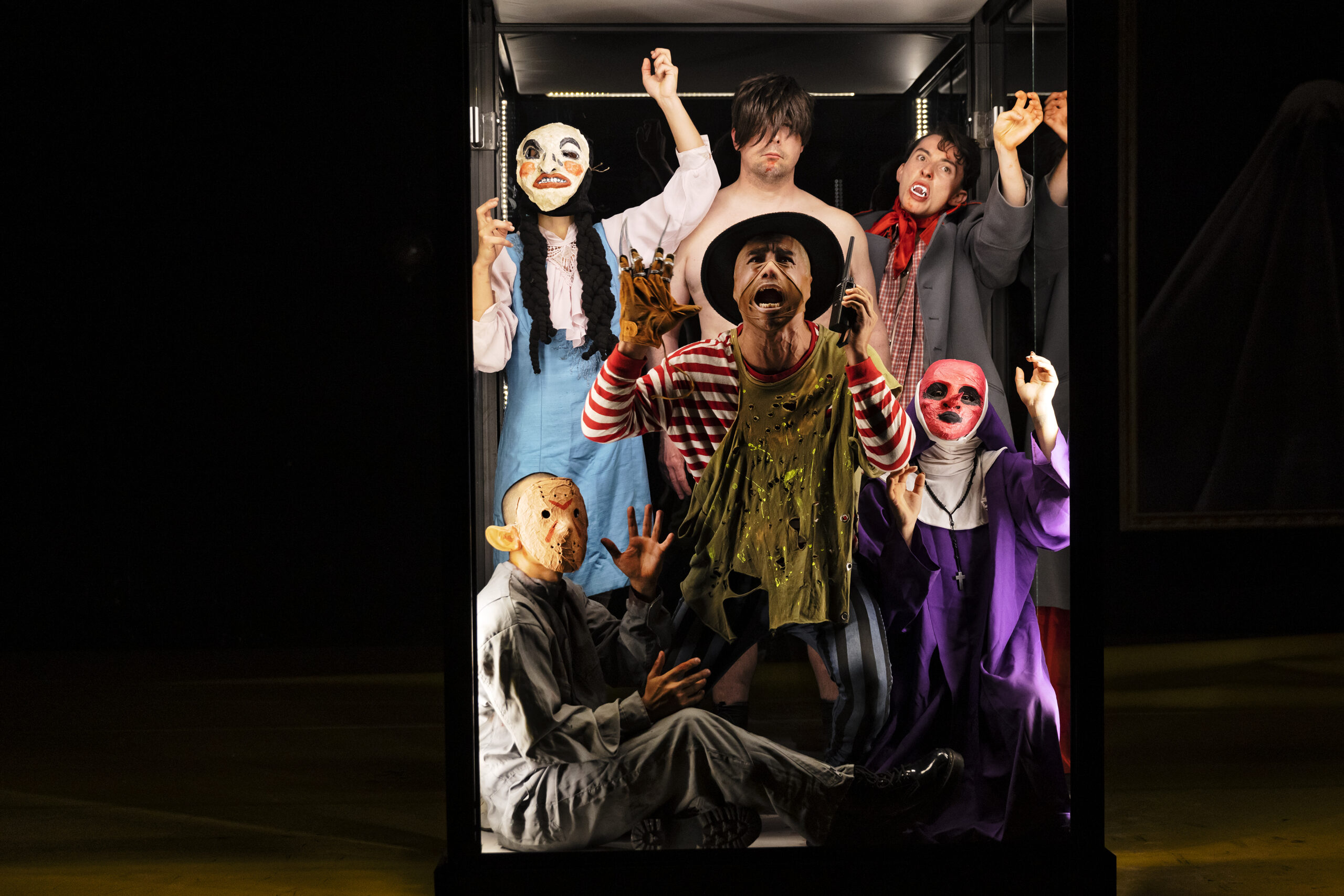 Team
With: Diego Acuña, Nicolás Cancino, Lucas Carter, Mónica Casanueva, Carolina Fredes, Imanol Ibarra, Carolina de la Maza, Pedro Muñoz
Director: Marco Layera
Dramaturgs: Elisa Leroy, Martín Valdés¬-Stauber
Stage Designer: Sebastián Escalona, Cristian Reyes
Composers: Andrés Quezada
Assistant Directors: Humberto Adriano Espinoza, Katherine Maureira
Producers: Victoria Iglesias, Álvarez de Araya
Technical Director: Karl Heinz Sateler
Production: Teatro La Re-sentida, Münchner Kammerspiele
Coproduction: Matucana 100, Schaubühne Berlin

Duration: 1h 30min.

In Spanish with English, Estonian and Russian subtitles.
Eight bodies move across the stage in mysterious convulsions. They march, exercise and celebrate – but it remains unclear whether their movements are expressions of suffering or joy, pride or fear. Together they form a police body: a mechanical and convulsive organism composed of strictly disciplined bodies. They undergo training to apply violence against themselves and others – and once something is inscribed in the body, it runs through all levels of being and life. Keep order! That is the command. In an abstract museum space, police officers, victims and fantastical figures of evil meet for an eerie carnival.
Oasis de la impunidad is a study of bodies on the street as both objects and, above all, subjects of violence. How is power transformed into forms of biopolitical strategies, surveillance and oppression that injure, mutilate and desecrate the human body? In grotesque and spectral landscapes, Oasis de la impunidad performs a ritual of confession, atonement and denunciation.
Marco Layera and his company La Re-sentida (The Resentful) create a choreographed study on the nature of violence. Their examination of the systemic and individual motivations for violence and the responsibility for its consequences focuses in particular on the perpetrators. What is the link between individual beliefs and violent disciplining? Who is pulling the strings from behind the scenes? Can there ever be justice where there has always been impunity? The play deals with the question of the legitimate and appropriate application of violence in a democracy: Who utilises and who controls the state's monopoly over the use of force.