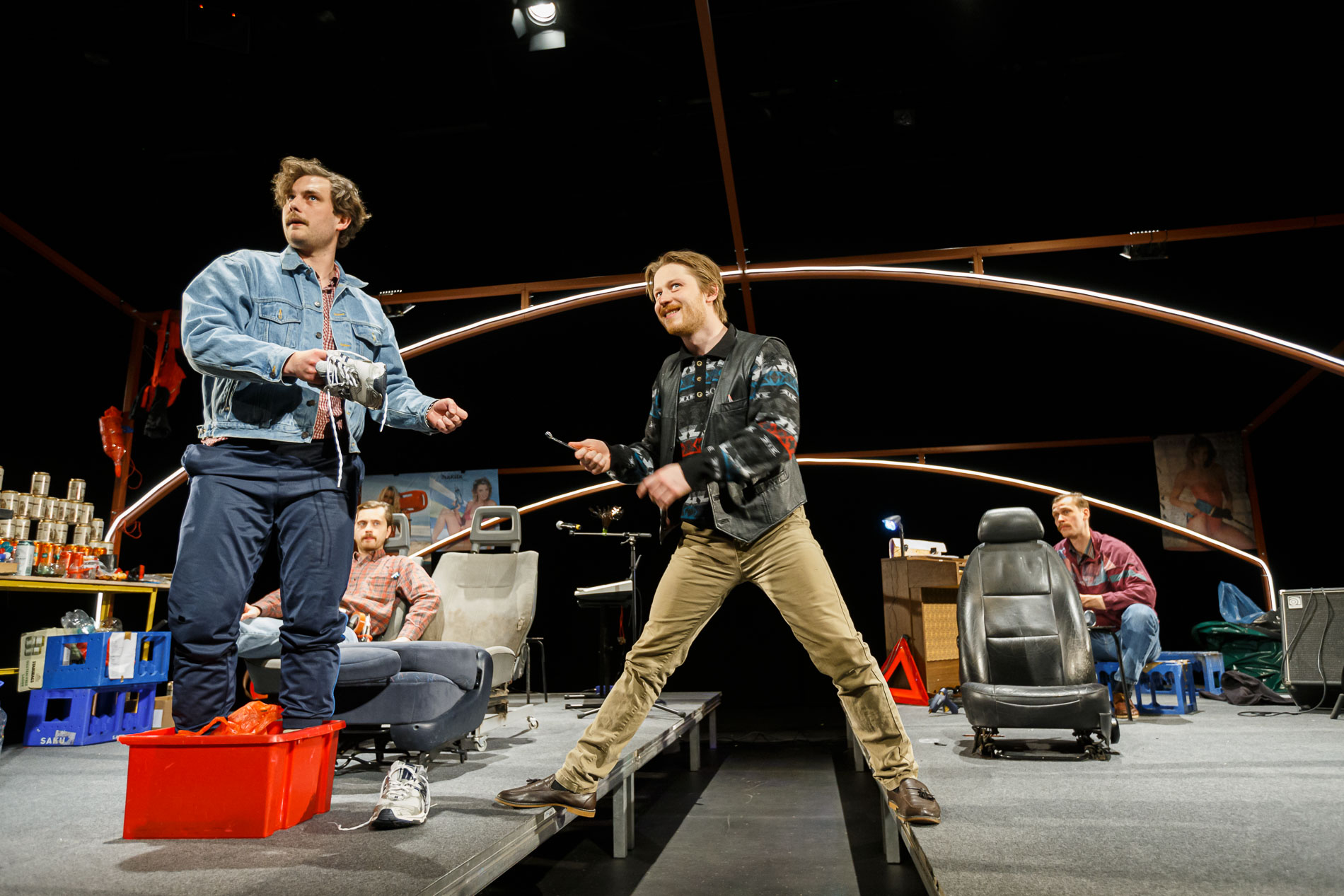 Team
Director: Elmārs Seņkovs
Stage designer: Illimar Vihmar
Composer: Edgars Makens
Lightning designer: Emil Kallas

CAST
Simeoni Sundja
Karl Robert Saaremäe
Matīss Budovskis
Agris Krapivņickis


Duration: 1h 50min.

NB! The performance is in very simple English language!

Sincerely funny story about being a man. Two Estonian and two Latvian guys from post-Soviet garages are sharing their deepest thoughts, life's philosophy, pursuit of happiness and wish to love and to be loved. During the performance you could find out quite many answers to important questions. Like how to make something useful from old plastic bottles? How to quit smoking? Who thinks faster – Estonian or Latvian? How to win a woman's heart if you have just a piece of paper? What is the philosophy of an empty toothpaste tube?
Elmārs Seņkovs, a recognized Latvian director, focuses on a strange garage space, a place that was a shelter both for the homo soveticus and for the new citizen of the democratic republic. The action of "Two Garages" takes place simultaneously in Estonia and Latvia and presents a story of young men who reach adulthood just as their countries win their independence. What if both the old and the new world seem foreign to you? How to reconcile opposite social expectations, life goals and conspiracies? What if the inherited father's garage seems to be the only safe haven?
Elmārs Seņkovs – a recognized Latvian director, graduate of the Pedagogics and Psychology Faculty at the Latvian University and the Latvian Academy of Culture, associated with the Latvian National Theater, where he started as artistic director in 2022. Also he has directed plays for different Latvian, Lithuanian and Russian theaters. Since 2019 he is a vice-rector of the Latvian Academy of Culture, where he is also a teacher at the direction and acting faculties. He is interested in classical Latvian and world literature.